SSA - SAIGON HEAT SUMMER CAMP 2019
The SSA - Saigon Heat camp is the top basketball camp for teaching and learning the game of basketball for all-level players in Vietnam. The camp will take place for 5 days, from August 12th to 16th.
Curriculum was designed by Saigon Heat's coach team, for different levels: Beginner, Intermediate, Advanced. Young players will learn all the basic individual skills of basketball and then be taught how to use them in team schemes and tactics. There are many activities every day such as camp league, shooting competitions, fitness testing and much more.
At the camp, each young player will be able to play in a safe, fun, controlled environment with both the Saigon heat coaches and players in full attendance throughout the week, giving you their expertise and experience.
- Individual fundamental skills that will be taught include ball handling, dribbing, footwork, passing, shooting, individual defense, rebounding or movement without the ball
- Game situation analyze through gaming and sports activities
- Team skills – Transition play, 2v2 play, 3v3 play, team defense
- Competitions – 1v1, shooting competitions, team camp league.
The camp also includes a day going to the home game of Saigon Heat on 18/8, watching and analyzing the game situations. Every 10 participants will be assigned with 1 coach.
LEAD COACH: David Singleton - Head Coach of Saigon Heat
David has been Saigon Head VBA Head Coach the last 3 seasons and has always been a critical part of Saigon Heat VBA coaching team. David has also been assigned to coach in various tournaments.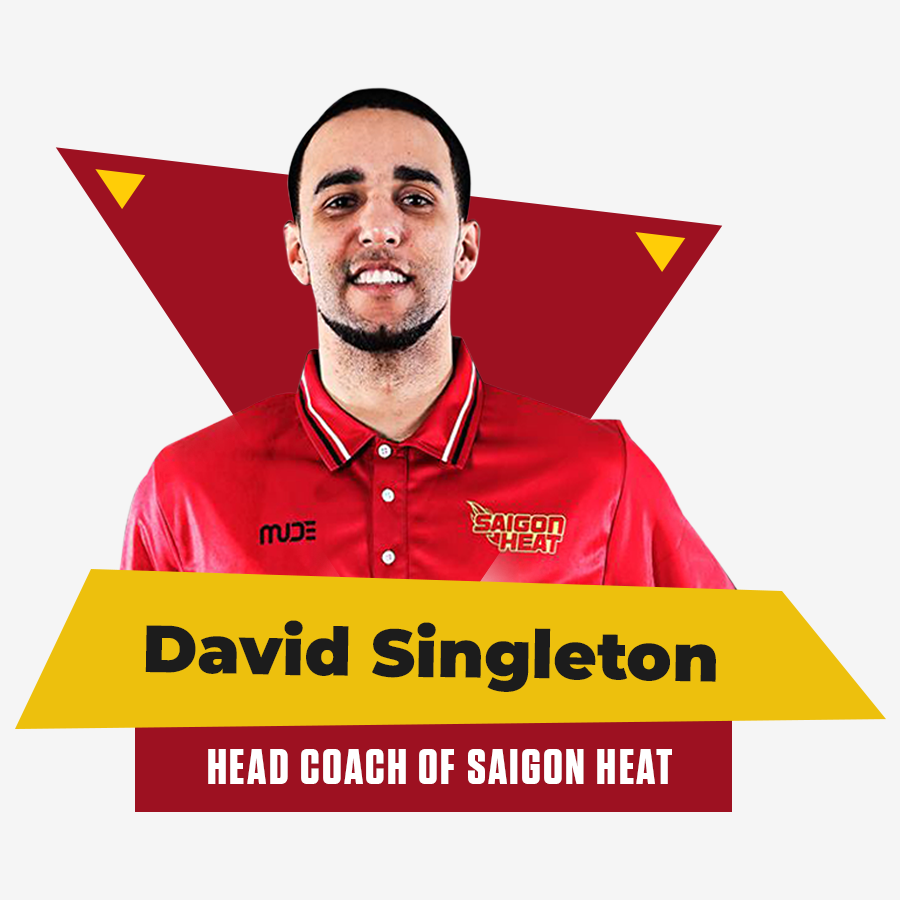 GUEST COACH: Kevin Yurkus - The Senior Advisor to the National Basketball Team.
Kevin was the Head Coach of Cantho Catfish for the last 2 seasons. With all of his achievement and expertise, Kevin is assigned as Senior Advisor to the National Basketball Team, working closely with young players. This year, Kevin will be the Head Coach of Saigon Heat team competing in the ABL 2019-2020.
PARTICIPANT: All level (City Pass and Elite students)
Age: 7 – 17
Time: August 12 – 16
Half day: 8:30 - 11:30am

Full day: 8:30 - 11:30am; 1:00 - 4:00pm
Maximum number of student: 70 students/camp
CAMP STRUCTURE
HALF DAY
Saigon Heat special move of the day
Scrimmages/camp tournament
Interact with Saigon Heat coaches and players
FULL DAY
Morning session
Saigon Heat special move of the day
Lunch break
Afternoon session
Individual advanced skills
Team concepts: Defensive and Offensive
1v1 or 5v5 camp tournament
Interact with Saigon Heat coaches/players
PRICE
| | |
| --- | --- |
| Half day package | Full day package |
| | |
| SSA Saigon Heat Camp reversible jersey | Saigon Heat Camp reversible jersey |
| | |
| 2 VBA Saigon Heat tickets | 2 VBA Saigon Heat tickets |
| | |
EARLY BIRD PROMOTION
- 15% discount for completed payment before 15/7
- 10% discount for completed payment before 29/7